Pictured: Primark store, Gran Via, Madrid.
Founded in Dublin almost 50 years ago Primark (Penneys) has stood the test of time.
In January, Associated British Foods plc (ABF), the parent company of Primark (trading in Ireland as Penneys) issued a trading update which cemented Primark's status as the jewel in its crown. Over the last year shares had fallen about 25% but the latest report has sent shares up 6.7% higher.
Founded in Dublin almost 50 years ago by Arthur Ryan, and headed up by CEO Paul Marchant, Penneys/Primark earns ABF almost 60% of the group's operating profit and employs 75,000 people worldwide.
Primark is the UK's biggest retailer by volume, with its value clothing offering booming since the recession years.  It entered the European market in 2006 with a store in Madrid, Spain and now has 360 stores across Europe and the US, after expanding into Holland, Germany, Belgium, France, Italy, the Netherlands, Portugal and Austria. This year will see a store open in Slovenia for the first time as well as expansions in New Jersey (USA), Spain, Birmingham, which along other openings, will in total add another 1.2 million sq ft of retail space.
 In 2015 it opened its first store in Boston, entering the US market where today it has nine stores and plans new ones in Florida and New Jersey. Some analysts are of the opinion the future for Primark is in the US. 
Primark's retail selling space increased by 0.3 million sq ft since the financial year end and, at 5 January 2019, 364 stores were trading from 15.1 million sq ft which compared to 14.2 million sq ft a year ago. Four new stores were opened in the period: Seville and Almeria in Spain, Toulouse in France and a city centre store in Berlin, Germany.
Total sales at Primark—which accounts for about half of the group's revenue and profit—were 4% ahead of last year, at both constant currency and actual exchange rates, and with a higher operating profit margin, profit was well ahead. Sales growth was driven by increased retail selling space partially offset by a modest decline in like-for-like sales.
The UK performed well, with Primark's share of the total clothing market increasing significantly. Sales were 1% ahead of last year for the period, in a market which declined year-on-year.
Sales in the Eurozone were 5% ahead of last year at constant currency. Sales growth was especially strong again in France, Belgium and Italy, and performance strengthened in Primark's second largest market, Spain.
The US continues to show strong performance, with very strong trading at the Brooklyn store, which opened in July last year.
Operating profit margin in the period increased, with purchases having been contracted at a weaker US dollar exchange rate than last year, and through better buying and tight stock management. Operating profit for the full year is in line with expectations.
Business & Finance, Company of the Month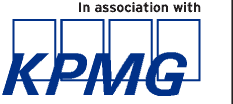 Business & Finance, in association with KPMG, recognises excellence in business through the 'Company of the Month' award. The Company of the Month award recognises the company which best demonstrates outstanding business leadership, sustainable growth, innovative strategy, strong financial returns and employee development.