Kerry Group, the world's leader in sustainable nutrition, celebrated its 50th anniversary. Committed to providing sustainable, healthier, and tastier products, they employ over 22,000 people from more than 50 countries. Written by Miguel Marinovic Sfeir.
Founded in 1972 as North Kerry Milk Products, the Irish company has grown to reach more than one billion consumers, and they have set the goal of reaching two billion by 2030.
Today Kerry Group is well-positioned in a growing industry as the demand for proteins keeps growing, which requires advancements in technology and innovation to meet consumer needs. They earned €7.4 billion in group revenues in 2021.
Many have paid tribute to Kerry Group for its remarkable trajectory. Among them, An Taoiseach Micheál Martin highlighted their constant evolution while always remembering their origins.
"You certainly set a high standard for home-grown Irish business, continuously evolving and becoming a world leader in food production while always celebrating the county where your journey began. Since your establishment, your focus on quality has enhanced the country's international reputation for high-quality sustainable produce. Go maire sibh an chéad!"
The Chief Executive of Tralee Chamber Alliance, Colette O'Connor, congratulated them too and expressed how important the Kerry Group has been for Kerry's community:
"Most of us living in the North Kerry area will have a connection to Kerry Group, mainly through relatives working in "The Co Op" as the Listowel Ingredients plant is still known locally or through the generations of farmers associated with it. The plant in Listowel is the heartbeat of the town, the largest employer and huge supporter of local initiatives. Here in Tralee, the physical presence of the Kerry Group headquarters on Princes Street serves as a reminder of the potential any business starting in North Kerry can have. Kerry Group is now a global leader in the taste and nutrition area, and its base remaining here in North Kerry is a show of its commitment to the county."
Some brands of Kerry Group are DaVinci Gourmet, Golden Dipt, and Ravifruit, developing more than 18,000 products and manufacturing them in 36 countries around the globe.
Business & Finance, Company of the Month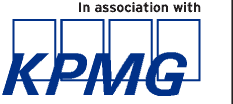 Business & Finance, in association with KPMG, recognises excellence in business through the 'Company of the Month' award. The Company of the Month award recognises the company which best demonstrates outstanding business leadership, sustainable growth, innovative strategy, strong financial returns and employee development.