As the drugs distribution business raised €135m in its IPO, Uniphar CEO Ger Rabbette is Business Person of the Month for July.
Uniphar, the Irish diversified healthcare services organisation floated on the stock market in July and looks to enter the Nordic market over the coming months.
The company raised €135m on its initial IPO.
Historically the company has focused on pharmaceuticals wholesale, however its commercial division has been a big business driver over the past few years. These two of the company's three divisions have grown from 18% of the group's earnings in 2016 to 69% of its €46.3 million of earnings before EBITDA in 2018, according to the IPO prospectus.
Speaking about the IPO, CEO Ger Rabbette, who has been with Uniphar since 2010, said the Group has transformed over the past five years, and is,
poised to become a truly global provider of integrated solutions with a strong focus on speciality pharmaceuticals and innovative medtech portfolios while maintaining our leading supply chain and retail position in the Irish market".
Set up by Irish community pharmacists 1967, Uniphar grew organically and through merger and acquisition throughout its first forty years. Uniphar, formed in 1994 through the merger of United Pharmacists Co-op and Allied Pharmaceutical Distributors. In 2013, Uniphar bought Cahill May Roberts Ltd and became number two in the Irish pharmaceutical wholesale and distribution market. Since then, the company has gone through a significant period of growth, taking poll position in the Irish market and transforming itself through acquisition and organic growth to become a high growth diversified healthcare services company, operating in the UK and the Benelux countries, as well as in Ireland.
Business & Finance, Business Person of the Month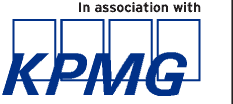 Business & Finance, in association with KPMG, rewards excellence in business through the 'Business Person of the Month' award. This award seeks to recognise noteworthy achievements in business leadership, and, particularly, those that make a telling contribution to the wider business community in Ireland.