Chris Martin, CEO, Musgrave Group
The Musgrave Group continues to be Ireland's leading wholesale supplier. Recent news of the company's profit growth for 2017 sees it announced as Business & Finance's Company of the Month for May 2018.
It was recently announced that the Musgrave Group reported a rise in pre-tax profits of 9.6% (€80 million) in 2017, equating to sales of €3.7 billion. This is despite sales remaining flat year-on-year.
Sales across retail brands owned by Musgraves, including SuperValu, Centra and Daybreak, reached €5.1 billion. As part of this, SuperValu's online sales grew by 23% year-on-year and membership of the store's Real Rewards loyalty programme grew to 1.1 million.
Other highlights in its 2017 profit growth were the roll out of the Frank and Honest coffee brand to 630 stores across Ireland, the further growth of its Spanish operations and a signed export agreement with Alosra, Bahrain's high-end supermarket chain.
Recent initiatives and success
In operation since 1876, Musgraves has always delivered a traditional service to the Irish people along with innovative programmes to further the growth prospects of the company.
In 2014, Musgrave MarketPlace invested €8 million in introducing 55 new multi-temperature trucks to its fleet, cutting its carbon footprint and facilitating high-frequency nationwide coverage.
Barry O'Neill, Supply Chain Director, Musgrave MarketPlace, said at the time:
The improvements to our network are a very important part of delivering on our commitment to customers in providing unrivalled quality and value. We are continually investing to deliver on our brand promise of 'first for value, first for choice and first for service'.
Following on from this, the company was named 2015 NACS Insight European Sustainability Retailer of the Year at the NACS Insight Convenience Summit, recognising Musgrave Group for its leadership in sustainable resource strategies.
Future plans
Musgraves will now look to Brexit-proof itself ahead of further announcements. The company's outlook sees uncertainty slowing down growth in the Irish economy.
According to the firm, the Ireland 2040 scheme will be a great blueprint in boosting Ireland going forward, with growth development in Dublin and Belfast a great plus for the Cork-based wholesaler.
Chris Martin, CEO of the Musgrave Group, said the company is analysing demographic trends for further expansion.
Business & Finance, Company of the Month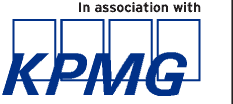 Business & Finance, in association with KPMG, recognises excellence in business through the 'Company of the Month' award. The Company of the Month award recognises the company which best demonstrates outstanding business leadership, sustainable growth, innovative strategy, strong financial returns and employee development.