Pictured: Anne Heraty, Chief Executive CPL Resources
CPL Resources, the recruitment group, has said that their pretax profit for 2020 will be in line with expectations, in spite of the global pandemic and ensuing economic crisis. 
Co-founded by Anne Heraty in 1989, CPL Resources, which is headquartered in Dublin, is Ireland's largest employment services company employing over 400 specialist recruiters. The Group comprises 23 brands with expertise across every sector and offices located across Ireland, Europe and the UK.
Their specialist recruiter fields include Accounting, Administration & Office Support, Banking & Financial Services, Construction, Engineering, Healthcare, Hospitality, Human Resources, Industrial, Insurance, Jobs with Language Skills, Legal, Marketing, Retail, Sales, Science and Supply Chain & IT/Technology.
For 4 years in a row, Cpl has been recognised as one of the top large companies to work for by Great Place to Work.
While the permanent placement wing of its business has seen a reduction in hiring, the flexible talent part of the business, which makes up more than 70% of its net fee income, has stayed buoyant. The demand across technology and pharmaceutical sectors has remained solid.
Results will be supported by strong growth in profits in the first half of the financial year. September will see full-year results announced.
Business & Finance, Company of the Month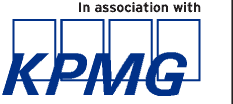 Business & Finance, in association with KPMG, recognises excellence in business through the 'Company of the Month' award. The Company of the Month award recognises the company which best demonstrates outstanding business leadership, sustainable growth, innovative strategy, strong financial returns and employee development.