Domhnall Slattery, co-founder and CEO of Avolon.
Dublin-based aircraft lessor Avolon, co-founded and run by Dómhnal Slattery, signals a strong year ahead for 2019 with its most ambitious Airbus order of 100 jets, worth $11.5bn.
Upon delivery of this latest order, Avolon will be operating an owned, managed and on-order fleet of almost 1,000 jet planes, valued at over $50bn (€44bn). The order of 75 A320neo (new engine option) and 25 A321neo aircraft will be delivered between 2023 and 2026. The family of aircraft are an upgrade produced by Airbus on its original A320 family, now known as A320ceo (current engine option).
Dómhnal Slattery, co-founder and chief executive of Avolon noted that the order is reflective of the group's ambition to be the world's biggest aircraft lessor. Avolon currently ranks third in the competitive fight for the top spot, looking to overtake Gecas and AerCap.
Mr Slattery said of the ambitious order:
We are locking in growth well into the next decade and building on our existing order book of exclusively new technology aircraft. The scale of the order reflects the long-term commitment and strategic perspective of our shareholders.
He also noted that Avolon continues to see "robust demand" for the narrow-body A320neo airliners.
Last month, Avolon placed 15 A320neo aircraft with Vistara, an Indian carrier that is a joint venture between Tata Sons and Singapore Airlines. Deliveries will start next summer.
Strong sales
The aircraft lessor industry remains bullish despite many challenges. A KPMG report in January 2018 noted that:
Despite some airline bankruptcies, mainly in Europe, and other areas of stress around the world created by terrorism and war, sanctions and regulatory pressures, the airline industry remains profitable and passenger demand continues to rise.
Throughout 2018 Avolon has been in expansion mode and continues to look forward to a healthy future.
In late December Avolon announced a significant placement, with a contract to sell a portfolio of 49 regional jet aircraft to Falko. The aircraft are currently on lease to nine airlines around the world and the transaction is expected to close in early 2019.
John Higgins, Avolon President and Chief Commercial Officer, commented;
We are delighted to extend our already close and long-standing business relationship with Falko, who have clearly demonstrated their ability to transact in scale. The business the Falko team have built over several years is truly impressive."
Mark Hughes, Chief Commercial Officer, Falko Regional Aircraft Limited, commented;
We are delighted to have finalised another deal with Avolon. This acquisition is a major step forward in the development of Falko and will expand our portfolio to over 120 regional jets and turboprops. Falko is now one of the world's foremost aircraft operating lease companies focused on the regional aircraft sector and we believe this deal is reflective of our market leading position."
Factfile:
Headquartered in Ireland, with offices in the United States, Dubai, Singapore, Hong Kong and Shanghai, Avolon provides aircraft leasing and lease management services. Avolon is 70% owned by an indirect subsidiary of Bohai Capital Holding Co. Ltd., a Chinese public company listed on the Shenzhen Stock Exchange (SLE: 000415), and 30% owned by ORIX Aviation Systems, a subsidiary of ORIX Corporation, which is listed on the Tokyo and New York Stock Exchanges (TSE: 8591; NYSE: IX). Avolon is the world's third largest aircraft leasing business with an owned, managed and committed fleet, as of 30 September 2018, of 890 aircraft.
Business & Finance Deal of the Month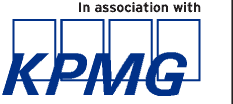 Business & Finance, in association with KPMG, recognises the most important M&A activity, financing deals and partnerships in the business landscape through the 'Deal of the Month' award.