Record-breaking results and deal announcements make May a landmark month for Coillte and its progressive CEO, Fergal Leamy.
The Coillte story has been one of transformation on the Irish business scene. The commercial forestry company, owned by the State, has come a long way from its traditional functions of harvesting trees for use as wood.
It now operates three distinct businesses – its core forestry business, a panel manufacturing business Medite Smartply, and a land solutions business that includes windfarms and renewable energy.
The fact that Coillte manages over 440,000 hectares of land – or 7% of the country – tells its own story, but that these three units form an extremely serious business undertaking has been confirmed by the group's 2016 results, revealed in May.
Coillte announced record earnings of €98.3m (10% up on last year) and operating cash flow up 130% to €15.2m: at a time when semi-states are under pressure, a 24% rise in the dividend paid to the State – €6.2m – will come as welcome news in the relevant government departments.
Leading this success story is Fergal Leamy, who was appointed CEO in early 2015. "We are creating stronger businesses that will be more robust into the future," explained the Waterford man. "2016 was a very significant year of progress as we successfully implemented the second year of our ambitious transformation strategy to become the best forestry and land solutions company in Europe. We have set clear strategic objectives and financial targets for the next five years that will ensure we achieve our vision and transform our business from one that makes a minimal return on investment historically to one that drives a consistent 5% return from our €1.4 billion asset base by 2020.
"We still have a significant challenge ahead to hit the targets we have set ourselves, however we are encouraged by the progress we have made to date and the fact that we are beginning to see the results from the successful execution of our strategy."
UNUSUALLY INTERESTING ROUTE
Leamy took the helm of the Newtownmountkennedy-headquartered body via an unusually interesting route by the standards of semi-State industry, having served in senior executive roles in the global corporate sector: McKinsey & Company, Greencore, and most recently Terra Firma Capital Partners, a private equity firm based in London.
He has focused on growing operating cashflows, which have traditionally been negative or break-even; and on reducing costs, with a predicted saving of €15m per annum by 2020.
There are other signs of progress to be seen aside from the annual results. Late last year the commercial forestry company's syndicate debt arrangements were refinanced with €170m credit facilities provided by five lenders.
Leamy referred to the company's historic reliance on the construction sector, and the need to grow towards sustainable and diverse cashflows: the new debt arrangement would be a 'fit for purpose' structure.
We have set clear strategic objectives and financial targets for the next five years that will ensure we achieve our vision
Following on from the company's strong investment in its wind farm portfolio of over €400m, Coillte recently launched a process seeking interest from corporate finance advisors to assist in identifying the best partnership model to progress the company's future renewable energy strategy.
Meanwhile, in April Taoiseach Enda Kenny was on hand to announce a €1m contract with Cork-headquartered Treemetrics, which will provide the agency with real-time satellite communications and data analytics for forestry harvest, the result of a four-year partnership with the European Space Agency.
The innovation continued with the introduction of Coillte Premium Partners, an initiative whereby owners of private forestry can earn an annual income from their land without the need to sell or take on risk.
At its Medite Smartply panel manufacturing division, Coillte announced a deal with Accsys Technologies and BP to develop the world's first Tricoya wood chip manufacturing plant in a €68m project based at Hull in Yorkshire.
"This innovation in wood technology is a potential game-changer for wood product sales," said Leamy. "Quite simply, we will now be able to sell our MDF products for outdoor use as well as for their traditional indoor uses, significantly increasing the production and sales of Medite Tricoya Extreme products in existing and new markets."
The news follows the opening of a €59m Smartply manufacturing facility in Waterford Port late last year.
Coillte's analysis holds that the Irish forestry industry has the potential to double in size over the next ten years, with Coillte in a leadership role – and Fergal Leamy has already made a significant contribution to this story of renewal and growth.
Business & Finance, Business Person of the Month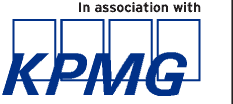 Business & Finance, in association with KPMG, rewards excellence in business through the 'Business Person of the Month' award. This award seeks to recognise noteworthy achievements in business leadership, and, particularly, those that make a telling contribution to the wider business community in Ireland.