In his latest market round-up, Ian Slattery talks us through US job creation for February and equity markets rising given strong US economic data.
Equity markets cheered the latest US jobs report, where 313,000 jobs were created in February, much higher than consensus expectations. Wage growth, however, slowed to 2.6%, down from the 2.9% figure last month which had shaken markets. The unemployment rate remained steady at 4.1% as the 'goldilocks scenario' appears to have at least temporarily returned for risk assets.
Trade tensions remained a key focus with continuing mixed messages emanating from the White House. Economic Advisor Gary Cohn resigned in what appeared to be a direct protest to the trade strategy. However, markets generally shrugged off the developments, and the news of potential direct US-North Korea talks was also positively welcomed.
Trade tensions remained a key focus with continuing mixed messages emanating from the White House.
The S&P 500 in the US rose throughout the week before Friday's data, which coincided with the ninth anniversary of the current bull market, which began on 9 March, 2009.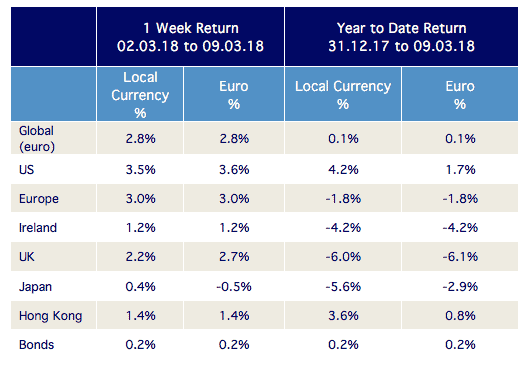 The global index rose by an impressive 2.8% last week, led by the US.
Oil moved higher last week and closed back above $62/barrel. Copper was up slightly at 0.4%, whilst gold was relatively flat.
The ten-year US bond yield finished the week at 2.89%, up from 2.86% following the positive economic data (yields move inversely to price). The German equivalent was down slightly to 0.64%.
The EUR/USD rate closed the period at 1.23 and EUR/GBP was at 0.89.
THE WEEK AHEAD
Tuesday 13 March
US inflation data for February goes to print, with the year-on-year figure expected to hold steady at 2.1%.
Tuesday 13 March
UK Chancellor Philip Hammond will issue the spring budget statement, which will give guidance on the economic plans of the UK government.
Friday 16 March
Eurozone inflation figures for February are also released this week, with the month-on-month number forecast to fall to 0.9%.
The team at Zurich Investments is a long-established and highly-experienced team of investment managers who manage approximately €22.4bn in investment of which pension assets amount to €10.1bn. To find out more about Zurich Life's funds and investments, w: zurichlife.ie/funds t: @ZurichLife
l: linkedin.com/company/zurich-life-assurance-plc
Warning: Past performance is not a reliable guide to future performance. Benefits may be affected by changes in currency exchange rates. The value of your investment may go down as well as up. If you invest in these funds you may lose some or all of the money you invest.